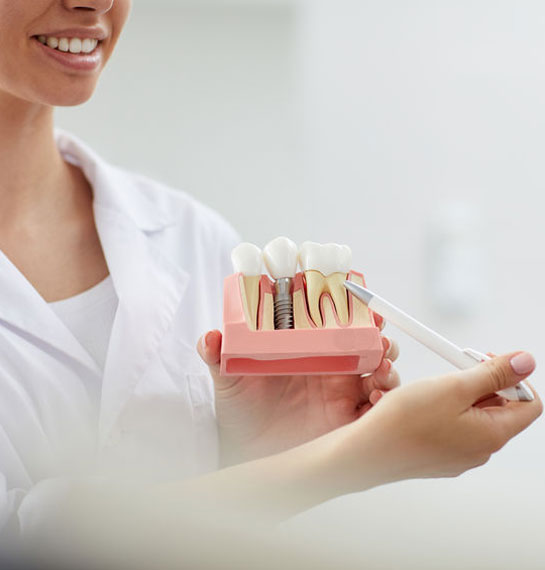 A dental implant is a medical device made of biocompatible titanium. It's used to replace the root of a missing tooth so that a dental crown can be screwed on top.
Depending on your anatomy and bone mass, a surgical procedure may be required before we install the implant. It takes three to nine months for an implant to fuse and integrate with the bone.
There are many advantages to dental implants:
It effectively recreates a natural tooth root.
The adjacent teeth aren't affected, unlike a permanent bridge, which requires neighbouring teeth to be shaved down.
It allows you to fully recover your chewing function, stimulates the bone and prevents neighbouring and opposite teeth from shifting.
Implants can also be used to secure complete removable dentures.
At Clinique dentaire Chantepoulet, we use guided surgery when installing implants. We plan the procedure in advance using a computer program. It provides a surgical guide that's precise right down to the millimetre. In some cases, we're even able to leave the gum untouched, making the treatment less invasive.
Since each patient is unique, your dentist needs to assess your overall oral health before determining whether you're a good candidate for an implant.
Thinking of getting an implant or want to know more about the procedure
Contact us today!