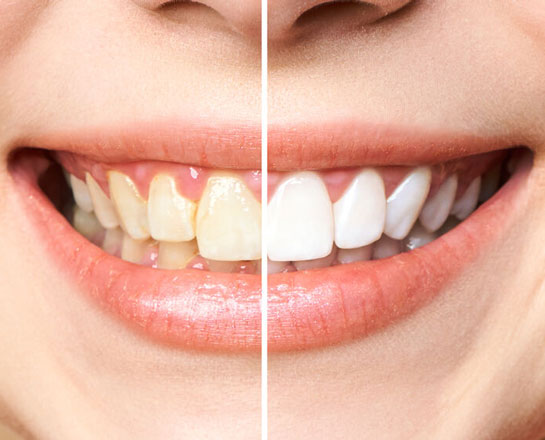 Dreaming of a brighter smile? Is your confidence affected by your teeth? Several options are available to you.
Tooth whitening
Tooth whitening trays are a simple, effective and safe way to brighten your teeth. We'll start with a dental check-up and if all tissues are healthy, we'll take an optical impression of your teeth, which will be used to make your custom trays. They're typically ready in two to five days. Two types of bleaching gels can be used. Your dentist will let you know which one is best for your needs.
A visible and lasting improvement can be obtained in just two weeks. The final result varies from one patient to another. Having a dentist or hygienist oversee the process can help prevent unpleasant surprises.
Quick whitening treatments
Do you have an important event coming up? Want your smile looking its best for the occasion? Our clinic offers quick tooth whitening service. It involves a brief in-clinic whitening session and polishing. This safe process takes just a few minutes and leaves your teeth looking a little brighter.
Would you like to know more about our regular or quick tooth whitening services? Contact us today to find out more!
Scaling + whitening packages
We offer scaling and whitening packages to patients who have already completed a regular dental check-up.
Find out more by asking our staff about this option!
Veneers
Dental veneers are thin porcelain or composite shells used to cover the front of teeth. They can correct chipped, worn, discoloured or slightly misaligned teeth. Veneers can also be used to fill a gap between two teeth (diastema). In most cases, a thin layer of enamel (0.2 to 0.4 mm) is removed to prepare the tooth for the veneer and obtain a natural-looking result.
Before starting the treatment, we'll plan your future smile so that you can see an exact representation of what it will look like.
This involves scanning your teeth using an optical impression system and taking photos inside and outside your mouth. We'll also analyse your lips and gums to create a 3D rendering of your future smile and ensure it suits your face.
The last step in the diagnostic process is one more appointment to "try on" your future smile before beginning the treatment. If you like the look, we're ready to start!
Dreaming of a brighter smile? Book an appointment today! You can get a quote, a complete assessment and simulation for about 300 CHF!